Ten years ago a group of early-career researchers and practitioners from across Africa came together to start their African Climate Change Fellowship journey. This marked the beginning of a program that, over the years, has created an active and engaged community of individuals and institutions dedicated to building scientific capacity to tackle climate change in Africa.
To mark the 10th anniversary of the first ACCFP fellowship round, we have asked ten alumni to share their experiences and insights – what has the fellowship meant to them? How has it impacted their personal and professional growth?
The African Climate Change Fellowship Program was a joint program of START, the University of Dar Es Salaam, the African Academy of Sciences and the Climate Change Adaptation in Africa program of the International Development Research Centre (IDRC). From 2009 to 2016, more than 300 fellows – PhD and post-docs students, as well as individuals from government and NGOs – participated in the program.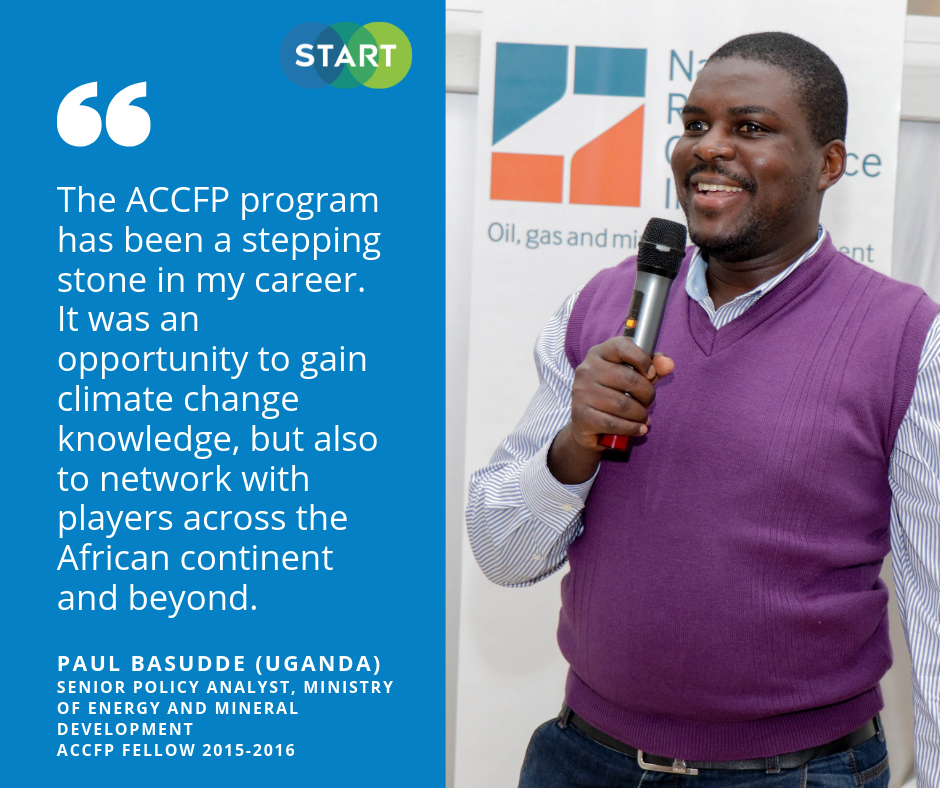 Paul Basudde (Uganda), Senior Policy Analyst at the Ministry of Energy and Mineral Development, ACCFP Adaptation Policy Fellow in 2015-2016
"The ACCFP program was a good opportunity and platform for me. It enabled me to gain knowledge in climate change matters, paving the way for my application to the AfriCLIP project. The fellowship allowed me to get involved in climate change-related work within the Ministry and the Government – for example I am part of committees that work to ensure climate change mainstreaming. 
The ACCFP was the first climate change program that I took part in, and it has been a stepping stone in my career. It provided the opportunity to gain climate change knowledge, and also to network with players across the African continent and beyond. I still engage with other fellows for current projects. I keep in touch with colleagues from Ghana, Zimbabwe and Malawi and we talk about how to continue improving ourselves and growing as climate change leaders."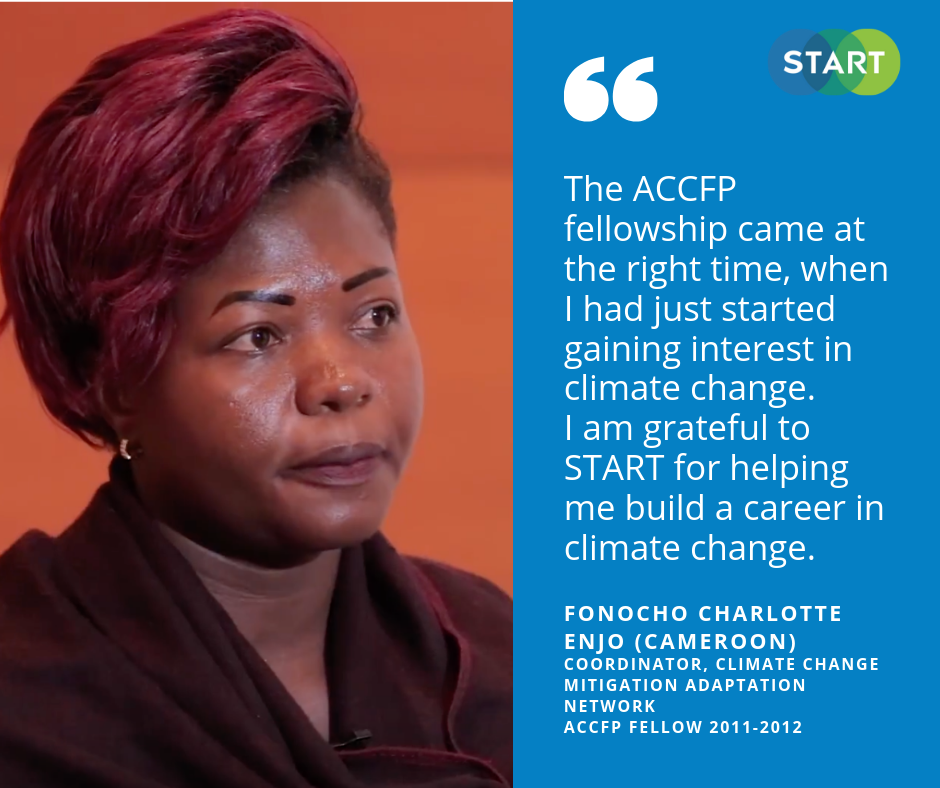 Fonocho Charlotte Enjoh (Cameroon), Coordinator at the Climate change mitigation adaptation network, ACCFP Adaptation Policy Fellow in 2012-2013
"The ACCFP fellowship came at the right time when I had just started gaining interest in climate change. I used to work with a consulting firm, doing environmental impact assessments for petroleum companies, and when my contract ended I joined the ACCFP program. Through the fellowship I learned about sea level rise, and how it affects people – for example, some people are displaced as they need to leave their homes near the seaside to move further inland. This is what really boosted my interest in working in climate change, and I am grateful to START for the support they offered.  I have built a career in climate change and I am continuing to advance in this field, thanks to the support that START provided. 
During the ACCFP program I studied the impacts of climate change on coastal communities in Cameroon. My study has since become the first step of a larger effort to build knowledge and provide recommendations on how to improve the resilience of the communities."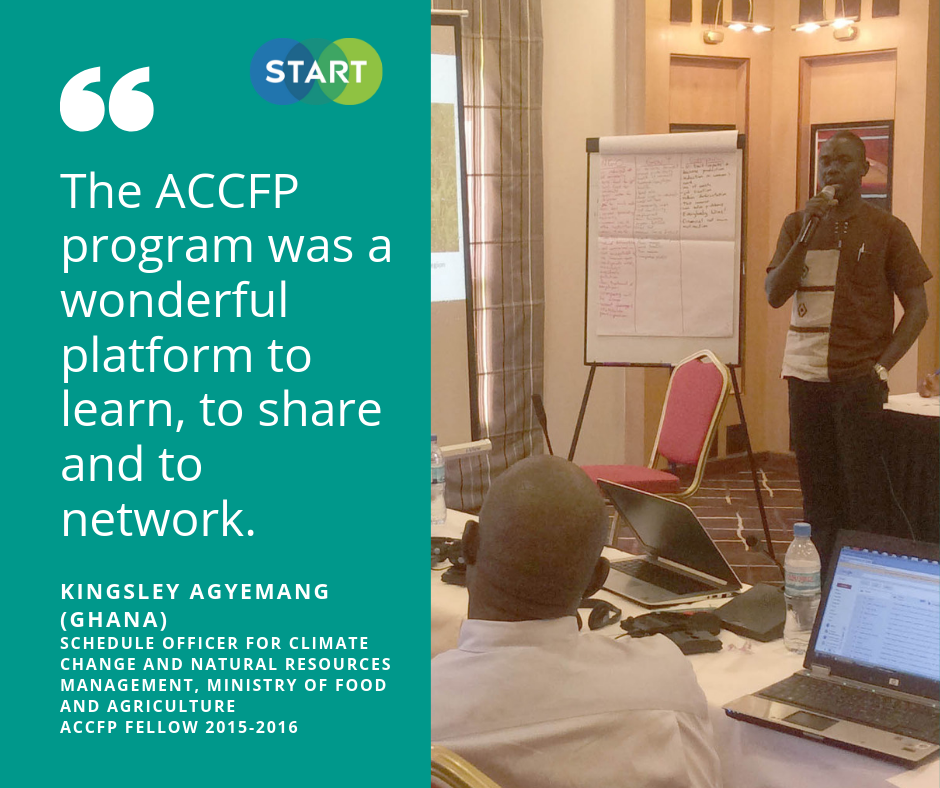 Kingsley Agyemang (Ghana), Schedule Officer for climate change and natural resources management at the Ministry of Food and Agriculture, ACCFP Policy Fellow in 2015-2016
"The ACCFP was a wonderful platform to learn, to share and to network. It has had a positive impact on my career – it provided a unique opportunity to liaise directly with policy makers and to advocate for green growth, a topic that I take very much to heart and which is central to agriculture development in Ghana."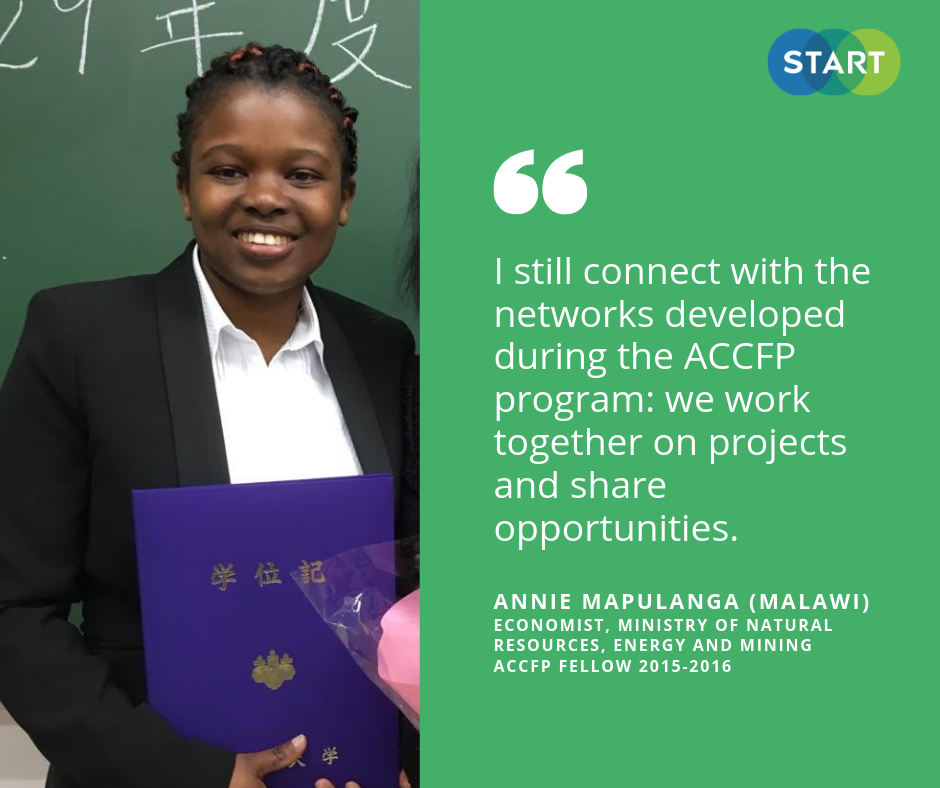 Annie Mapulanga (Malawi), Economist at Malawi Ministry of Natural Resources, Energy and Mining, ACCFP Policy Fellow in 2015-2016
"The ACCFP fellowship motivated me to apply for a Master's degree because I was the only one in my cohort without one. I still connect with the networks developed during the ACCFP program: we work together on projects and share opportunities. For example, I am about to collaborate with former ACCFP fellows on projects in Zimbabwe and Malawi. The fellowship and other opportunities provided by START have helped me to grow professionally and develop networks – this is START."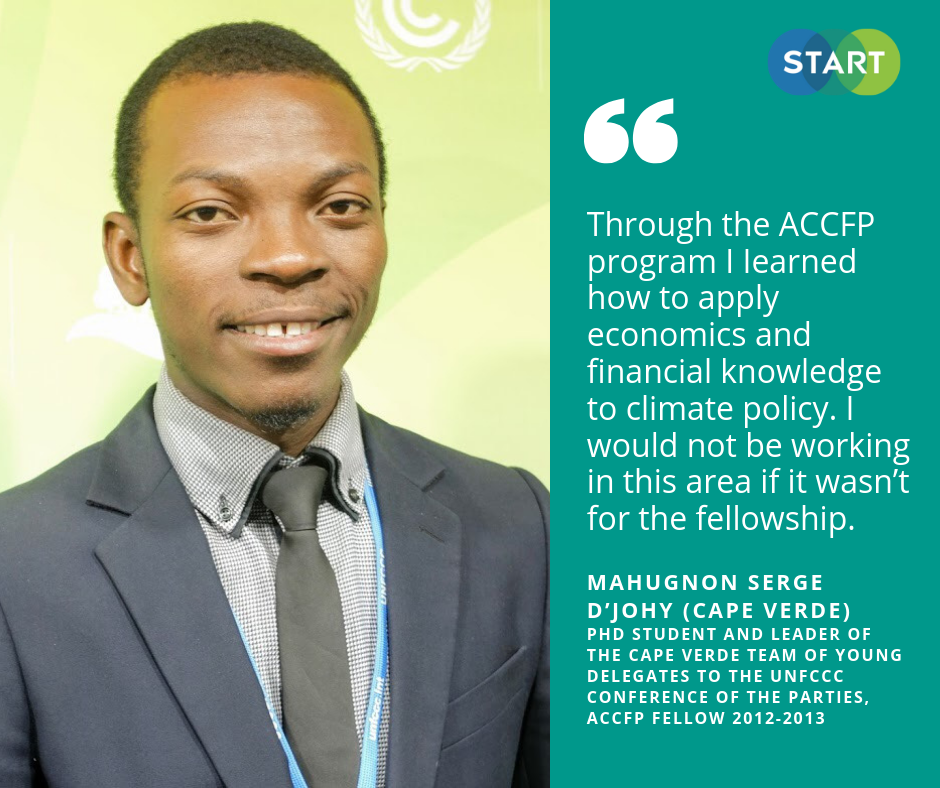 Mahugnon Serge D'johy (Cape Verde), PhD student and Leader of the Cape Verde team of young delegates to the UNFCCC Conference of the Parties, ACCFP Policy Fellow in 2012-2013
"Through the ACCFP program I Iearned how to quantify climate vulnerability and disaster risk and how to apply economics and financial knowledge to climate policy. The focus of my PhD work is on climate policy and climate financing – I would not be working in this area if it wasn't for the ACCFP program."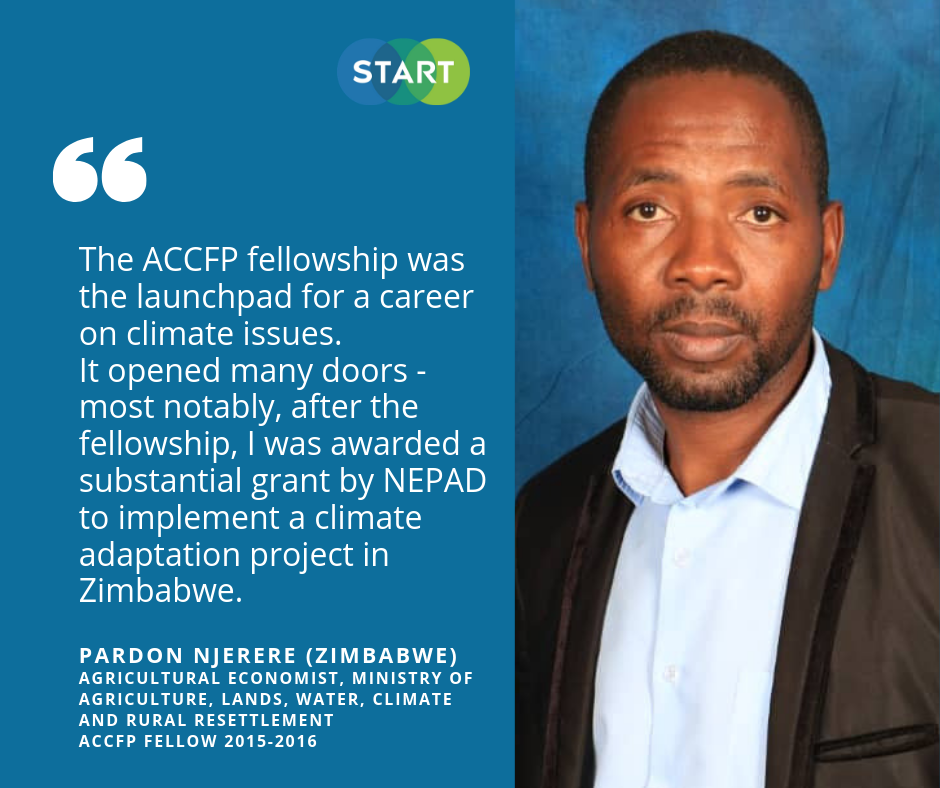 Pardon Njerere (Zimbabwe), Agricultural Economist at Zimbabwe Ministry of Agriculture, Lands, Water, Climate and Rural Resettlement, ACCFP Policy Fellow in 2015-2016
"The ACCFP fellowship was the launchpad for a career on climate issues. It opened many doors – most notably, after the fellowship, I was awarded a substantial grant by NEPAD to implement a project on improving adaptation capacity of livestock farmers in Zimbabwe. Thanks to my participation in the ACCFP program, I was also accepted to other courses and fellowships. The ACCFP stood out for its mentors, who were guiding us through the process and giving regular feedback, helping us to complete assignments on time."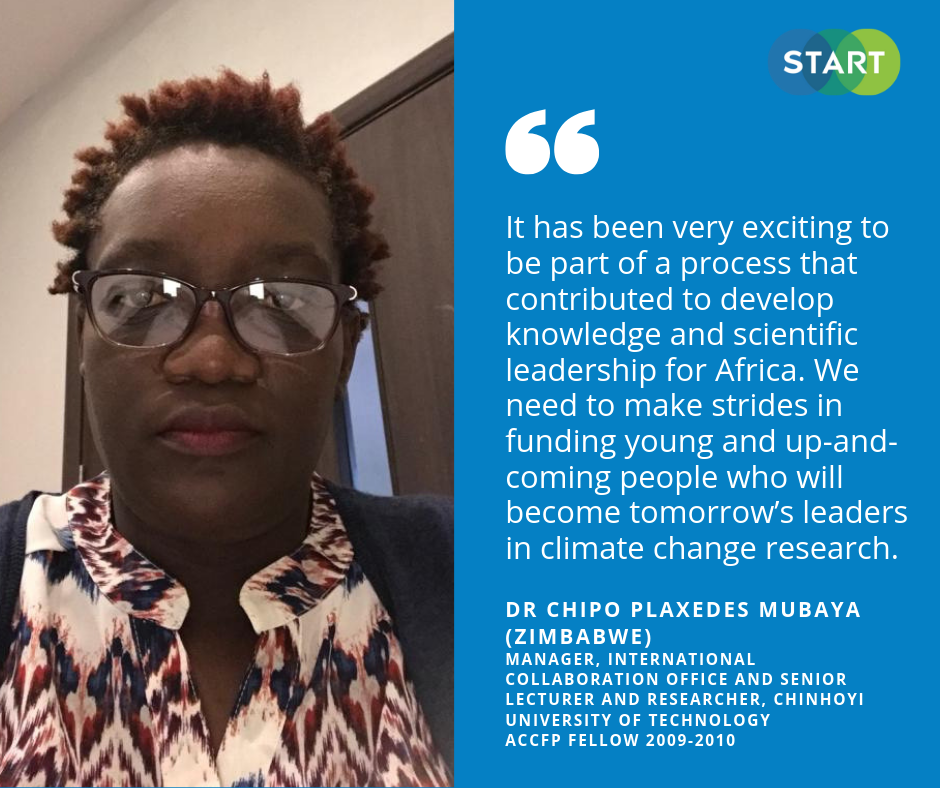 Dr. Chipo Plaxedes Mubaya (Zimbabwe), Manager, International collaboration office; Senior Lecturer and Researcher, Chinhoyi University of Technology; Doctoral Research Fellow (2009-2010)
"It has been very exciting to be part of a process that contributed to develop knowledge and scientific leadership for Africa. The continent has been lagging behind in terms of climate science research, and we really need to make strides in funding young and up-and-coming people who will become tomorrow's leaders in climate change research."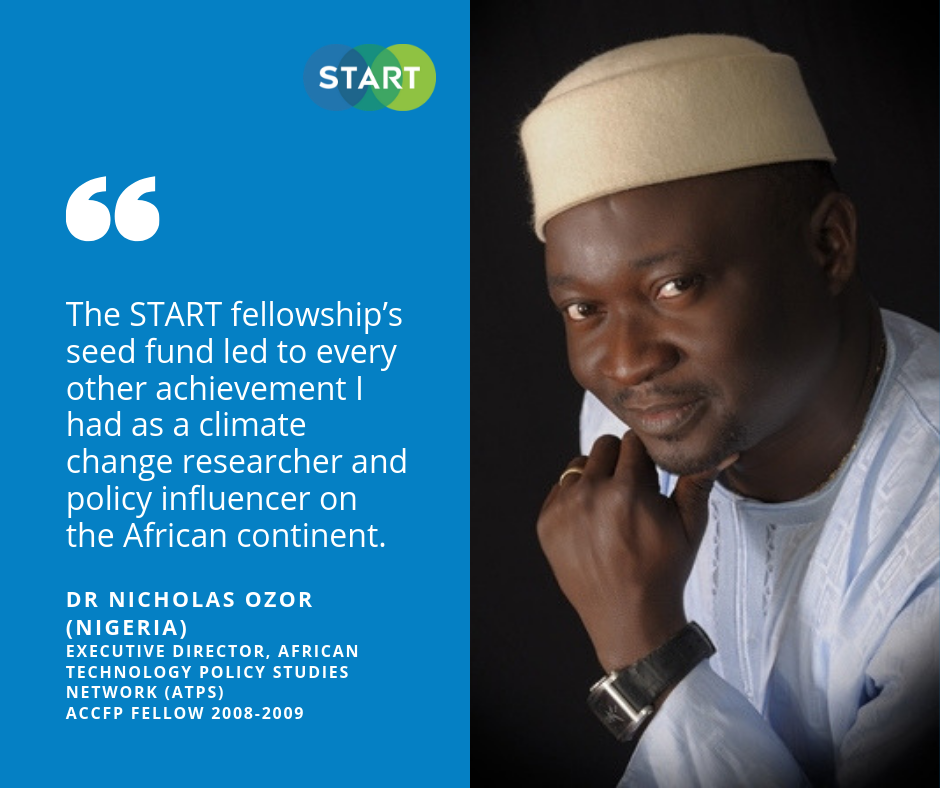 Dr. Nicholas Ozor (Nigeria), Executive Director, African Technology Policy Studies Network (ATPS); ACCFP Teaching Fellowship (2008-2009)  
"The START fellowship's seed fund led to every other achievement I had as a climate change researcher and policy influencer on the African continent."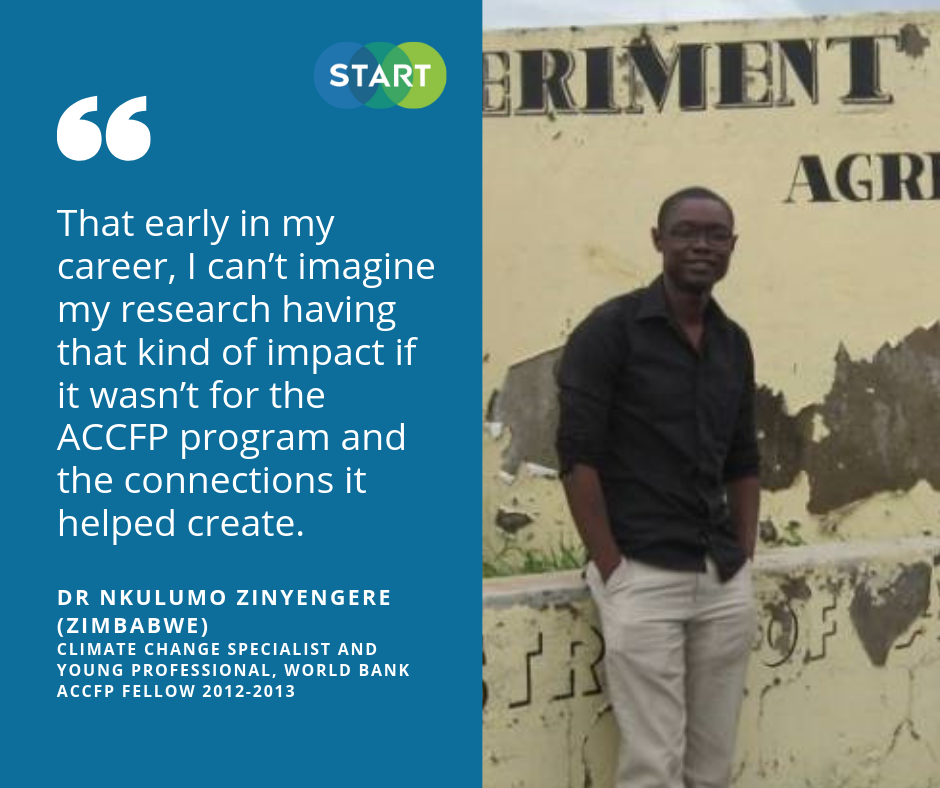 Dr. Nkulumo Zinyengere (Zimbabwe), Climate Change Specialist and Young Professional, World Bank; ACCFP Adaptation Fellow (2012-2013)   
"That early in my career, I can't imagine my research having that kind of impact if it wasn't for the ACCFP program and the connections it helped create."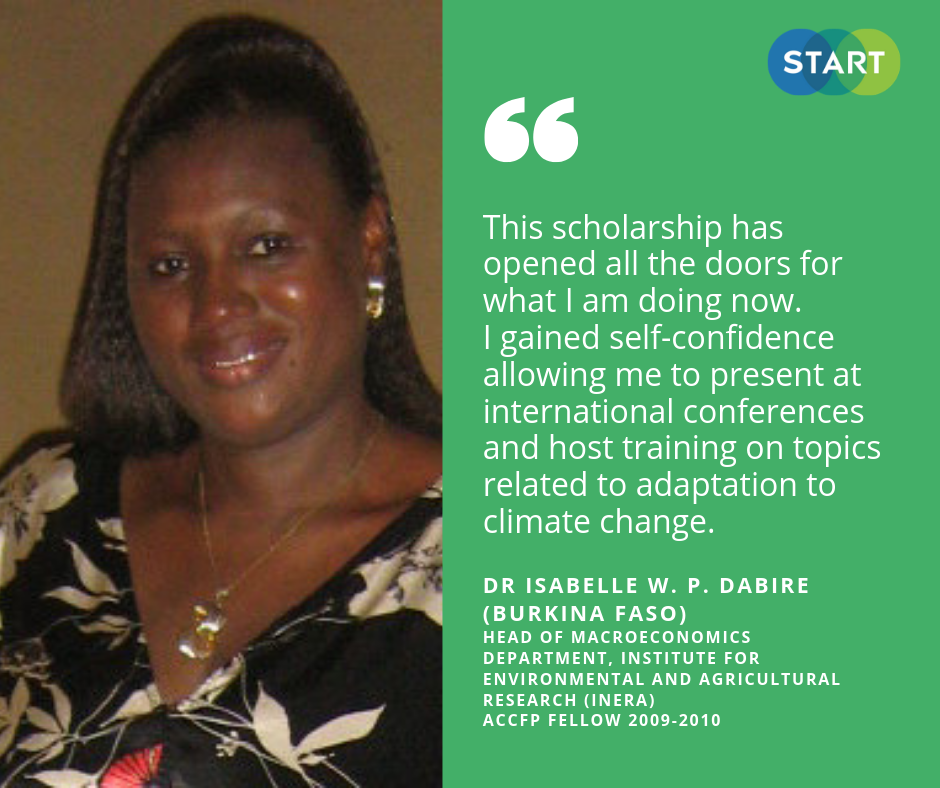 Dr. Isabelle W. P. Dabire (Burkina Faso), Head of Macroeconomics Department, Institute for Environmental and Agricultural Research (INERA), Doctoral Fellow in 2009-2010
"This scholarship has opened all the doors for what I am doing now. I gained self-confidence allowing me to present at international conferences and host training on topics related to adaptation to climate change."