The start of Nkulumo Zinyengere's career was a typical first step in an academic research track, a PhD in climate change modeling. But modeling research – "performed behind a desk" as he says – felt tight. What really excited Nkulumo was the perspective to contextualize his research by integrating socio-economic and community engagement dimensions, as well as to produce research that could support development policies.
The African Climate Change Fellowship (ACCFP) provided an opportunity to expand the scope of his research, and opened doors for a career in development on the global stage. Today Nkulumo is a Young Professional and Climate Change Specialist at the World Bank, and his research and analysis support funding and programs, as well as initiatives that build awareness and commitment around climate action, such as the recent Coalition of Finance Ministers for Climate Action.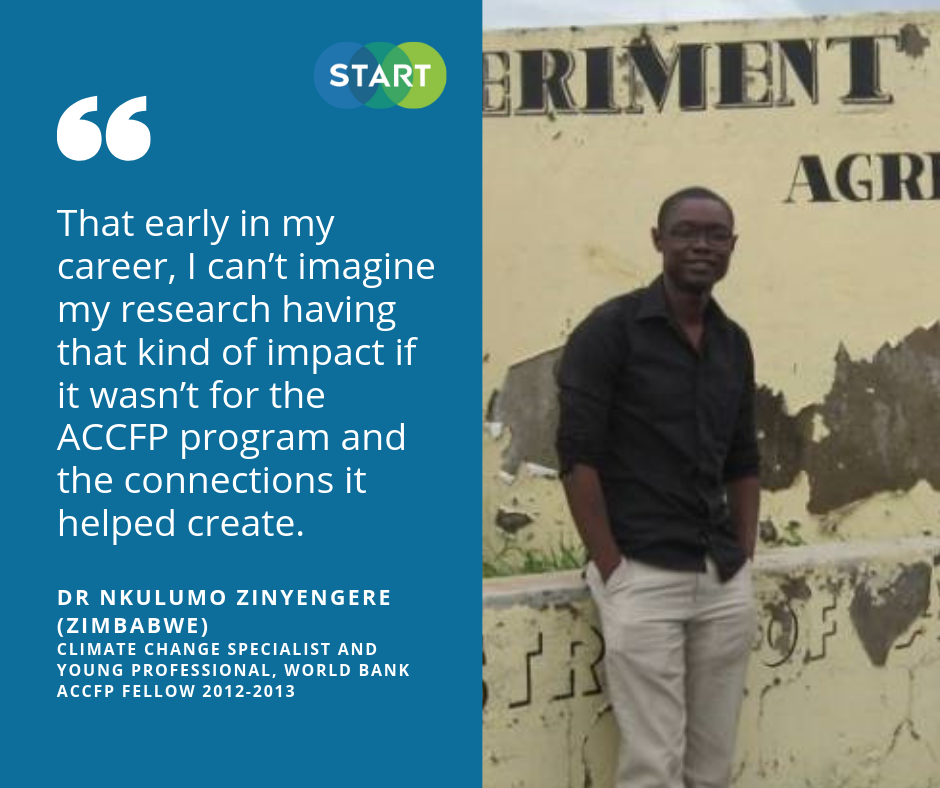 We sat with Nkulumo to understand how the fellowship impacted his career.  
START: What brought you to get involved with START ? 
Nkulumo: Back in 2012, as a first-year PhD researcher at the University of Cape Town, I was studying climate models. My work focused on trying to understand what the impacts of climate change would be on a number of crops in Southern Africa, and the options that farmers would have to adapt to climate change. But modelling work is pretty much done from behind a computer, and I was eager to give more context to my work, to make the modeling tighter by collecting data from the actual locations that I was studying. That is why I applied to the African Climate Change Fellowship Program (ACCFP).
START: What have been the advantages of participating in the ACCFP program? 
Nkulumo: Thanks to the ACCFP funding I was able to visit the countries I was studying (Malawi, Swaziland and Lesotho) to conduct interviews and collect data that helped contextualize my research, and more importantly to add a socio-economic dimension to my work.  Eventually, I published a number of articles from this work, acknowledging the ACCFP support. 
I also used part of the funding to spend three months as a visiting fellow at an organization called FANRPAN (Food, Agriculture and Natural Resources Policy Analysis Network), which focuses mostly on policy and analysis work. This experience was very useful, helping me to understand how to make my work more relevant to policies that were being developed in the region.
The involvement with FANRPAN also led to a spin-off research project with the Financial Fiscal Commission of South Africa. We studied climate change vulnerability in two provinces of South Africa, providing recommendations on policies that could be adopted to support these provinces and the country as a whole. We actually presented our work to the Parliament assembly. In my current position, I do quite a bit of this, but that early in my career, I can't imagine my research having that kind of impact if it wasn't for the ACCFP program and the connections it helped create.
START: How has your involvement with START impacted your career trajectory? 
Nkulumo: Going into my PhD, I knew I wanted to apply a broader development lens to my modeling research, and ultimately work in the development sector rather than academia. The ACCFP program was the first opportunity I encountered to explore dimensions such as policy and analysis, community engagement and livelihoods. The program positioned me very well for pursuing a career in the development sector. I wouldn't be able to do the job I am doing now, if I had only focused on modeling. 
START: Do you still keep in touch with other fellows and relationships built through the ACCFP?
Nkulumo: Most certainly. I am still very much in touch with a number of my ACCFP colleagues and friends and whenever opportunities come up, I always think about them, and they think about me.
As an example, in 2017 – five years after my fellowship –  I was invited to be an editor for a book on climate change and agriculture in Africa. I was still early in my career, without much experience in publishing, but I had done extensive research on the subject, and through the ACCFP and other networks I contacted a number of people who could write substantial and interesting work – eventually three ACCFP fellows contributed chapters to the book!
START: What is your best memory from the ACCFP?
Nkulumo: I have quite a bit of memories from the ACCFP times. While traveling to Lesotho, Swaziland and Malawi I made so many friends that these countries feel pretty much like a second home to me. Career-wise, an interesting anecdote is from the time I was in residence at FANRPAN. The CEO had been invited to a conference organized by the Pan African Chemistry Network in Ethiopia, but she wasn't able to participate. I convinced her to send me to the conference, where I presented my research to the plenary session!  I bring this up to underline how the fellowship provided opportunities that I would have never had otherwise.
START: What is unique about the ACCFP fellowship?
Nkulumo: Apart from the funding – a substantial amount for a PhD student – the flexibility was a unique element of the fellowship. I have participated in many fellowship programs, and often they are very tight and strict. The ACCFP gave me room to decide how to carry on my work, as long as I produced all the deliverables. This was very useful, and especially at that time in my career, it was quite unique.