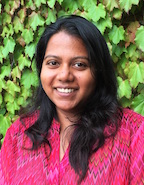 For farmers in the Koutiala district of Southern Mali, climate change is not a distant threat but a lived reality. Severe droughts and unpredictable rainfalls are more frequent than ever, with dramatic impacts on the local communities who rely on farming and cattle for their subsistence.
"While speaking to Malian farmers for my research, I realized that they are highly aware and perceptive of the changes in climate that are affecting the region, and have been implementing a variety of strategies to adapt to these changes – for example diversifying crops and livelihoods, buying early maturing seed varieties, growing "cash crops" such as cotton to be sold during lean months, selling cattle during poor harvest seasons, or utilizing formal and informal credit systems" says Udita Sanga, a PhD candidate with Michigan State University, who contributes to the work of the West Africa team of the Adaptation at Scale in Semi-Arid Regions (ASSAR) project.
Understanding the context, the decisions, and the actions that make communities less vulnerable to climate change is key to promoting long-term, effective solutions. As part of the ASSAR program and with a Small Opportunities Grant from START, Udita was able to gain precious insights into the complex dynamics of how farmers are adapting to climate change in Southern Mali.
"Thanks to the grant from START, I developed a role-playing board game called "Dumuni ni` Sene`" (in Bambara) or "Food and Farm" (in English). I piloted the game with 25 male and female farmers in Bamako and Koutiala," says Udita. Role-playing games are a cutting edge approach to research in decision-making, cognition and behavior – they are more effective than surveys in capturing how people make decisions and learn in complex, interactive and multi-stakeholder environments.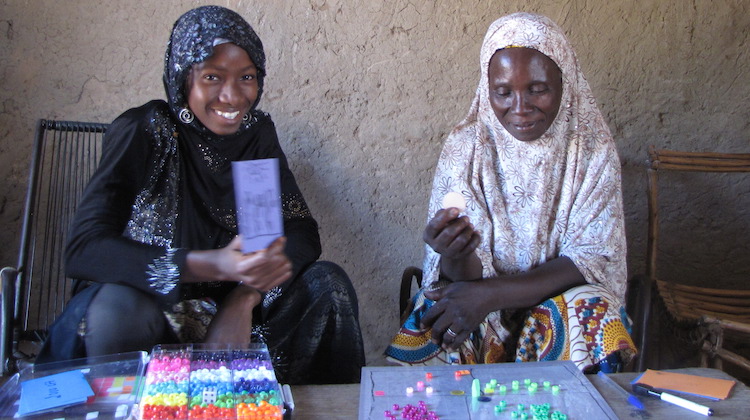 "The game simulated the experience of smallholder farmers in a crop season from production to consumption – the players were endowed with starting capital, access to seeds along with a gridded board where they could draw their farm plots. They could cultivate different types of crop in the game, and their objective was to maximize the amount of nutritious food and/or income available to their family. They reacted to randomly drawn weather event cards that affected the yield of crops, allowing me to observe decision-making processes and understand the social and institutional contexts that affect these decisions."
"I will use the data I gathered to develop an "agent-based model" that will help us understand how adaptation policies affect the decisions and actions of individual farmers within particular social and institutional environments and affect the resilience of the overall community ."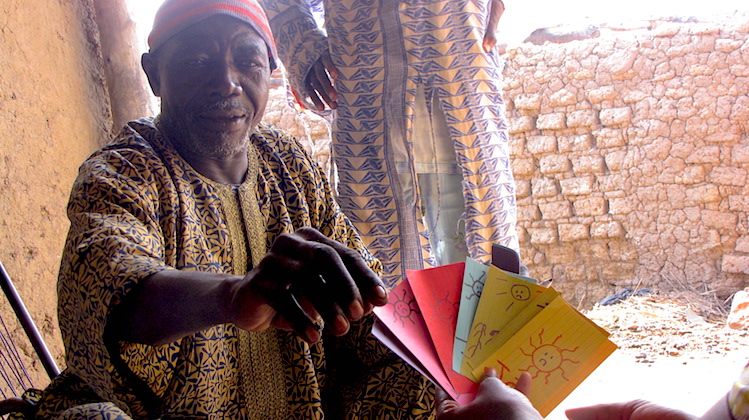 "START supported my research and sponsored my participation in a training on human behavior models at Arizona State University that was extremely beneficial for deepening my knowledge and gathering ideas on how to best analyze and model the data from the game," adds Udita. "This is one of few participatory modelling approaches currently being undertaken on climate change adaptation and food security, and I am confident that, with its innovative approach, it will contribute to the work of the ASSAR team and to global efforts to understand and promote climate change adaptation."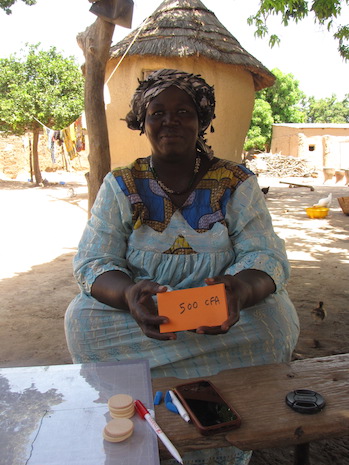 Ayeshata Kone from Konseguela Village : "I never thought I was making profit while farming, but now after playing this game, I know that I am wise businesswoman."
Read the white paper by Udita Sanga
All photos by Udita Sanga