Fighting cholera and malaria in Mozambique is no easy task. Informal settlements, in the capital Maputo as well as in the rest of the country, provide fertile ground for these deadly diseases that spread through contaminated water and mosquito bites. 
Extreme weather events such as tropical cyclones are becoming stronger and more recurrent, increasing the vulnerability of the communities. In 2019 two of the strongest tropical cyclones ever recorded in Mozambique, Idai and Kenneth, caused unprecedented devastation and flooding, as well as a wave of water- and vector-borne diseases outbreaks in the wake of the storms.
To help authorities address more proactively the spread of these diseases, Genito Maure and his team at Eduardo Mondlane University have been developing an early-warning tool that helps predict outbreaks based on the weather conditions. We asked Genito to tell us more about the project's innovative approach.
"The idea sparked in March 2017. As part of the FRACTAL project, we sat down with Maputo municipality officers and stakeholders to discuss how climate change might affect the city and what climate information would be most useful to decision-makers – we all agreed that one of the first priorities to explore was the link between the weather and outbreaks of malaria and cholera," explains Genito. 
Thanks to a grant managed by START under FRACTAL, Genito's team developed an interactive tool that uses the weather forecast to estimate the risk of outbreaks of malaria, cholera, and other vector- and water-borne diseases in Maputo. "We were ready to deploy the tool, but unfortunately there was a leadership change at the city level, and we are now working with the new leadership to get them familiarized with all our FRACTAL activities. However, the tool attracted the attention of the Ministry of Health, that asked us to work on a similar platform, at country-wide scale."
The interactive platform links long-term climate information with data regarding malaria outbreaks, that has been extracted from old databases made available for this project. 
The tool uses state-of-the art technology to identify patterns in the data – an artificial intelligence system based on mathematical approaches called Generalized Additive Mapping and Self-Organizing Maps. These approaches allow to clearly reveal and map non-linear relationships between climate data and outbreaks of diseases using geographical information systems, and ensure that the tool will be able to self-understand and adapt to a changing climate in the future.
With timely information on where and when malaria outbreaks are likely to happen, decision-makers will be able to trigger measures to prevent or better contain outbreaks, such as fumigating sites, cleaning clogged sewage systems, or ensuring that appropriate quantities of resources such as mosquito nets and vaccines are availed. 
"The rainy season is fast approaching, and with it the peak of malaria outbreaks. This year, decision-makers will have access to timely insights that will help them have a real impact on the communities" says Genito.
"But our work doesn't conclude here. We are already looking at expanding the country-wide tool to cover cholera and other diseases, but also to include socio-economic elements, to make sure that it takes into account adaptive capacities and vulnerability."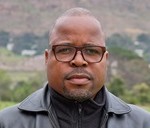 Genito Maure is an Assistant Professor at the Faculty of Science of Eduardo Mondlane University and holds a PhD in Environmental and Geographical Science by the University of Cape Town, South Africa.