This year, the Sustainability Research and Innovation (SRI) Congress decided to host three separate, but related events. The main event, which is the SRI 2023 Congress, is currently taking place this week (26 to 30 June) in Panama City, Panama. Registration is still open. EPIC-N Coordinators from the African, Asia, Latin American, and USA regions are participating in several sessions at SRI to showcase the EPIC networks and work from the different regions.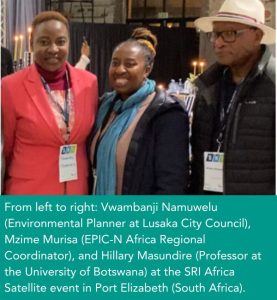 "The Educational Partnership for Innovation in Communities Network: An innovative worldwide conceptualization for sustainability – The implementation of the EPIC model at the global scale: Opportunities and challenges from Asia, Africa, USA, and Latin America"
Online session: 29 June 2023, 2:30 PM – 4:00 PM (GMT+2/ CAT)
Online: 10 to 12 July 2023
"Educational Partnerships for Innovation in Communities (EPIC) Engaging Universities and Students in Strengthening Asian Cities Resilience" 
The Africa Satellite Event was held from 20 to 22 June 2023 in Gqeberha (Port Elizabeth), South Africa as a hybrid event:
The EPIC Africa network hosted a session entitled "Locally led adaptation in cities, a case of the Education Partnership for Innovation in Cities (Africa)", a hybrid session with 3 speakers presented on-site during the Africa Satellite Event. Here, cities highlighted their EPIC programs and work and discussed some of the successes and challenges they have encountered in setting up and implementing their EPIC programs. A recording of the session will be available soon.
About EPIC
The Educational Partnerships for Innovation in Communities (EPIC) Model provides an innovative way to harness both university and municipal resources to address pressing local community needs related to climate adaptation, resilient development, and economic and social change. EPIC-N accomplishes this through fostering collaboration between universities and local governments that harnesses the power of university students to work together with local community leaders and NGOs to solve real-world problems using transdisciplinary approaches. While the ultimate focus of EPIC-N is in translating knowledge and skill into policy and practice, the EPIC model simultaneously prepares the next generation workforce through learning-centered approaches that develop practical skills within academic training.
To learn more about EPIC visit the EPIC-N webpage and the network's facebook page.