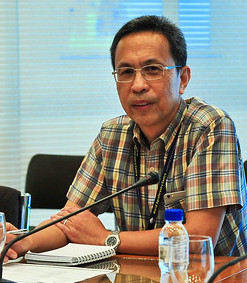 Rodel Lasco is a climate change expert based in the Philippines. Country coordinator of the World Agroforestry Center (ICRAF), he also serves as the Scientific and Executive Director of the Oscar M Lopez Center as well as a professor at the University of the Philippines.
Rodel's first encounter with START dates back to 2001, when he coordinated a project involving scientists from Indonesia, the Philippines, Thailand and Vietnam as part of the Assessments of Impacts and Adaptation to Climate Change (AIACC). The project focused on the impacts of climate change on regional watersheds, and adaptation strategies to address these impacts.
"AIACC provided an opportunity to work across Southeast Asia, and learn from other similar programs in the region. We were able to work with scientists from other countries in Southeast Asia, and in fact we still continue to work with them 20 years later," says Rodel.
Rodel believes that the participation in the AIACC project helped shape his career: thanks to the program, which was one of the first large systematic adaptation research efforts in the Philippines, the focus of his work shifted from mitigation to adaptation. "With AIACC we pioneered adaptation research in this country," Rodel says. "That translated into career advancement and opportunities for all those who were involved. I believe that the experience and knowledge I gained around climate change adaptation, as well as the publications that I authored under the AIACC program, were some of the reasons why I was selected to become the Philippines Coordinator at the World Agroforestry Center, and why I became involved with the Oscar M Lopez Center. Moreover, in 2007 I was the first person to be elected to the National Academy of Science and Technology in the Philippines based largely on climate change research. It all started with AIACC."
AIACC also facilitated his involvement with international processes like the Intergovernmental Panel on Climate Change (IPCC). Rodel has participated in the fourth and the fifth assessment reports of the IPCC, and he is currently a coordinating lead author of the sixth one, besides taking part in IPCC regional meetings and science-policy dialogues.
"The AIACC program was really cutting-edge for the time. It was the best capacity building program I ever experienced in my career because it allowed us to do the actual research, and provided guidance, mentoring and long-term support," adds Rodel. "Rather than a one-off training, where researchers might not know how to apply the newly acquired knowledge once they get back to their countries, the AIACC program focused on strengthening the capacity of researchers and providing continuous support."
"It is tricky to talk about the long-lasting impact of our research work, but we can find indicators of some sort of impact. The scientific work we did, starting with AIACC but also later, has been cited a lot, and there are now more and more young students who work in this field," explains Rodel. "It is important to continue raising awareness about climate change and adaptation at all levels. With the Philippines' Climate Change Commission in the lead, we are now producing films and documentaries. But just the mere existence of a national panel on climate change, advising the government on climate processes and programs, is a success. This is quite a change compared to twenty years ago, when cabinet ministers would not listen to anything related to climate change."