A conversation with Dorothy Ndhlovu (Lusaka), Rudo Mamombe (Harare) and Peter Mulambia (Lusaka), Master's students involved with FRACTAL.
What have you learned from this experience? 
Dorothy – My experience with FRACTAL has been extremely educative and inspiring. I learned about how countries across southern Africa experience and address water insecurity. I have acquired practical research skills, such as using data collection tools. During learning labs, I have also learnt about distillation processes in climate science, receptivity and power relations. 
Rudo –  Being an embedded researcher was my first experience in the field of co-exploration and co-production of knowledge, and provided an opportunity to explore both the professional and academic worlds. I acquired skills in the corporate world as I engaged with stakeholders in the water sector during meetings and other day-to-day activities at the Harare City Council. From working at the university, I gained skills, including in writing, conducting social science research, data analysis, and disseminating results.
Has your perspective on the urban climate issues for your city changed?
Peter – This experience has challenged my previous understanding of water crises in Lusaka. I now have a better understanding of all the contributing factors – climate, infrastructure, city planning, urban poverty, and above all, governance and urban management. I also now have a better understanding of the need for integrated knowledge and skills, and collaboration among all stakeholders, to achieve urban water security.  
How has this experience influenced your professional and personal trajectory?
Peter – Learning from community initiatives has been very interesting for me as an urban and regional planner. I have learned to look at the community perspective, and to accommodate community interests and wishes in urban development interventions.
Rudo – The FRACTAL project was the gateway to my career path as it provided my first work experience and postgraduate opportunity soon after I had completed my undergraduate studies. Working with senior researchers, fellow embedded researchers, and other FRACTAL partners has helped me sharpen my scientific writing and teamwork skills, and opened doors for future collaborations. 
Dorothy – This experience has widened my understanding of water insecurity in Africa, and I have acquired a number of skills – from research skills to project management, teamwork and problem-solving. I have also met and been inspired by experienced researchers, local and international, and I feel more passionate than ever about building a career in climate change and water security in southern Africa.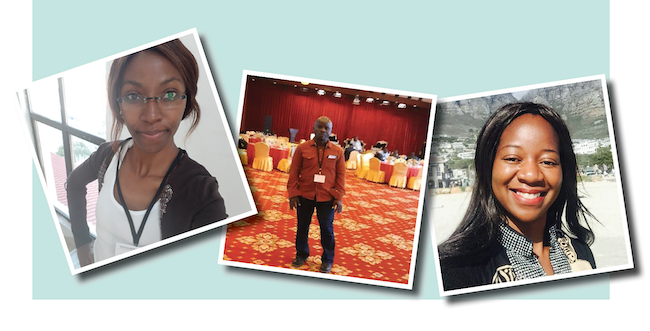 First published on ProSus Magazine, November 2019