Reflections and recommendations from two transdisciplinary workshops
Stellenbosch, South Africa. March 2016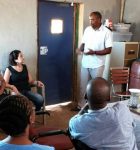 The complex challenges facing the world today underline the need for effective transdisciplinary (TD) research specifically orientated to address 'real-world' problems that are too complex and multidimensional to be answered by singular research disciplines.
START and partners organized two workshops to strengthen capacity in the development, use, and evaluation of TD approaches. The introductory training consisting of two back-to-back workshops was organized as an International Social Sciences Council (ISSC) activity, convened by START and the Centre for Complex Systems in Transition at Stellenbosch University in partnership with the Transdisciplinary Lab at ETH Zurich, Switzerland. Both trainings were made possible due to generous support of the National Research Foundation (NRF) of South Africa and the hosting of the Sustainability Institute in Stellenbosch, South Africa.
The introductory training workshops were designed for a broad audience and included researchers, research managers and funders, civil servants, government departments, and NGOs interested in learning about theories, methods, and examples of TD research. The objective was to transmit the principles of TD research and the various steps to follow; introduce the most frequent methods used; present case studies; include TD site visits, and introduce M&E tools. The curriculum for the introductory training program was developed and tested by researchers and practitioners with strong experience in doing, teaching, and writing about TD research.
The first 3-day national training took place March 14-16, 2016 and brought together 16 South African participants from the Stellenbosch University, NRF officials, representatives from governments, and local NGOs. The national training served as the first opportunity to engage with participants and test the developed curriculum. The training was followed by a day of reflection and evaluation by lead partners and facilitators to assess what worked and what didn't. As a result, the course was modified wherever possible for the second training workshop that served as an official pilot, based on the experience of the first training and participant feedback. The 3-day regional pilot training program took place 21-23 March 2016 and brought together 16 participants from a variety of countries including: Angola, Kenya, Namibia, South Africa, Zimbabwe, and Zambia. Participants from the national and regional training were selected by the NRF.
More detail on the workshop program and recommendations are included in the full report, which can be downloaded as a PDF here. Please contact Sarah Schweizer at sschweizer@start.org for further information.