GLOCULL (Globally and LOCally-sustainable food-water-energy innovation in Urban Living Labs) is an international research consortium consisting of transdisciplinary research teams from universities from seven countries across the world. GLOCULL is a Belmont Forum funded international team of researchers and stakeholders aiming to develop an Urban Living Lab approach for innovations in the Food-Water-Energy nexus that are locally and globally sustainable. START is supporting Stellenbosch University, Centre for Sustainability Transitions (CST) involvement in the Belmont Collaborative Research Action.
Every urban area faces unique challenges and contextual dynamics that require unique solutions. The GLOCULL GLOCULL (Globally and LOCally-sustainable food-water-energy innovation in Urban Living Labs)was initiated in seven countries across the world to test context specific solutions to sustainability challenges through experimentation in Urban Living Labs (ULLs). This article is concerned with an ULL in Khayelitsha, a working class neighborhood in Cape Town, South Africa. The ULL initiated an series of interventions that experimented with incremental solutions to some of the unique challenges within the context, most particularly food insecurity and unemployment in the neighbourhood.
Urban areas in South Africa face a plethora of complex sustainability challenges that cannot be addressed from the lens of a single discipline and purely academic approach. South Africa has historically been associated with extreme levels of inequality with a consumption expenditure Gini coefficient of over 0.63 in 2015, which ranks the country as the most unequal in the world. The socio-economic and spatial inequality left behind by the Apartheid regime could most clearly be observed in urban areas such as Cape Town where the majority of the populations live in the outskirts of cities in areas known as townships. Townships are areas that have been explicitly designed by the Apartheid regime to exclude certain race groups from economic activity in city centres.
Today, townships are where urban poverty and poverty related issues are concentrated. Local governments in township areas are being placed under increased strain as a result of rapid urbanisation, growing informal settlements and service delivery backlogs. This means that townships have become geographic hotspots for challenges that curtail well-being such as food insecurity, unemployment, crime, exposure to disease and risks of climate change all further reinforced by inadequate service delivery and dwindled political will to bring about sustainable change. These interlocking challenges have often been framed as 'wicked problems' and has set the stage for community members, developmental researchers and private sector actors to experiment with approaches that will bring about lasting change.
Khayelitsha is the largest township in Cape Town as it is suggested by some studies. It is home to between 1,2 and 2,4 million people in a city with 4,7 million inhabitants. Khayelitsha is generally characterised by poor service delivery, extreme unemployment and poverty and rapidly growing informal settlements. One prominent problem in townships such as Khayelitsha is the prevalence of food insecurity resulting from unequal financial and physical access to healthy and nutritious foods.
The ULL that was established in Khayelitsha was established with the aim of contributing towards addressing the major barriers to food security in Cape Town: physical and financial access. The ULL was set up in collaboration with local food growers and food activists. The first intervention was to establish a healthy food market that gave urban farmers and entrepreneurs from the area an opportunity to sell their goods in close proximity to their homes instead of traveling long distances to get to the city. The market was hosted on a monthly basis and started to attract a variety of local food activists from within and beyond Khayelitsha who started participating directly in the activities of the ULL.
As the COVID 19 pandemic hit in early 2020, like most countries around the world, the South African government rolled-out lock-down regulations which brought the economy to a standstill. People had to stay home, and all of the market activities came to a standstill as it was an event that relied on the gathering of large numbers of people. Even when the national regulations had softened and allowed for some gathering, university regulations limited stakeholder engagements in research projects. In addition, the researchers did not want to risk exposing any of the research participants to the virus. For the majority of 2020 the activities of the ULL came to a standstill.
In Khayelitsha and other low-income areas, the execrated poverty and unemployment harshly affected the livelihoods of the residents. Unemployment rates skyrocketed as countless people living in low-income areas such as Khayelitsha lost their jobs leading to an exacerbated hunger problem in the community. The hunger problem also spiked innovation around soup kitchens as urban agriculture. The scattered shoots of urban agriculture activity that was happening across Khayelitsha began to draw interest from many community members. Several residents, including several members of the ULL who were not already farming, started their own gardens, urban agriculture support programs and community feeding schemes.
According to some of the ULL participants, the movement of food growers picked up momentum in Khayelitsha because of growing levels of food insecurity. The momentum is linked to the growing unemployment, the termination of government school feeding schemes and increased idle time where community members began to look for more productive ways in which they can spend their time. In addition, more urban food growers begun to emerge across Khayelitsha to join the food growers community. People were using whatever space they can find and grew whatever they could.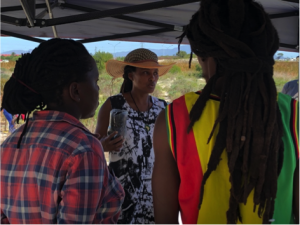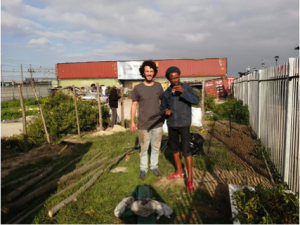 The participants of the ULL immediately became aware of this shift as they were recognised for being already established food growers and were approached by many people asking for advice and support. This, coupled with the extension of the GLOCULL project to October 2021 motivated the ULL participants to shift the focus of the ULL toward supporting the emerging movement of food growers in Khayelitsha. This new intervention was known as Impilo Yabantu food growers collective.
The Impilo Yabantu food growers collective had to co-produced aims:
To support emerging food growers by hosting urban agriculture workshops facilitated by local food growers and,
To establish new urban gardens in Khayelitsha with potential gardening champions and to use these spaces to also host some of the workshops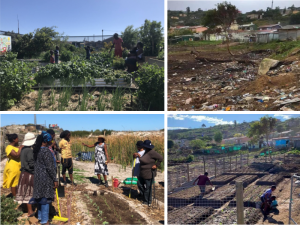 Thus far seven workshops have been hosted. They were curated in a way that it would be appealing for local youths to participate as gardening is viewed by many young people as being 'uncool'. This was accomplished as the workshops were all hosted by young community leaders that are widely recognised for their beautiful gardens and impacts on the communities. The workshops ended up attracting people from all age groups, but the number of youth participants always made up for more than half. This was viewed as a major accomplishment by the ULL participants.
The establishment of new urban gardens was initiated to give emerging food growers that have major resource constraints the opportunity to manage their own spaces. The gardens were established in a variety of unused spaces in schools and degraded parks. Beneficiaries were selected on the basis of the quality and potential of the space and their own skill level as food growers.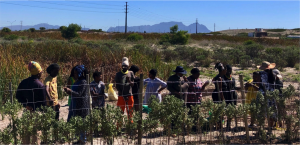 Thus far the ULL has supported the established of five urban gardens and hosted around six workshops. The majority of the gardens have been successful with two of them having failed. One because of poor drainage and flooding and the other because of political and financial challenges from within one of the schools. But all interventions and especially the way that the interventions changed have presented valuable points of learning for researchers and practitioners involved in the project.