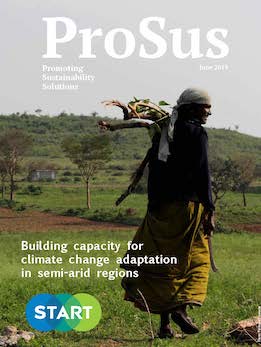 We are pleased to announce that the second issue of START's ProSus Magazine is now available.  This issue focuses on climate change adaptation and features research and stories from the Adaptation at Scale in Semi-Arid Regions (ASSAR) program.
From 2014 to 2018, ASSAR developed better understandings of barriers and enablers to effective climate change adaptation in semi-arid areas of East, West, and Southern Africa and India. Together with partners, START brought multiple capacity building dimensions into ASSAR, with the goal of advancing excellence in research and strengthening scientific leadership, and ultimately ensuring that ASSAR's impact would live on after the project's completion.
Published twice a year, ProSus explores ideas and solutions for a more sustainable future. It showcases the voices of researchers, practitioners and thinkers, and perspectives that build bridges between science and society, between local and global realities. We hope you will enjoy this second issue.