Beginning earlier this year, START and Reos are convening 16 Francophone, West African early-career renewable energy scientists and professionals for the ProGREEN Leadership Labs, which aim to strengthen Fellows' personal and interpersonal leadership capacities to meaningfully engage in co-design processes and effectively communicate and collaborate with diverse stakeholders to better support transitions to renewable energy in the region.
To date, Fellows have built their competencies for impactful collaborations, systems thinking and working in complex environments, as well as foresight. Each module pairs an online lesson (offered via Thinkific) with a virtual synchronous session. During these sessions, fellows are able to review the online module content, actively explore key themes and practice novel approaches with Francophone facilitators. 
Latest feedback from the Fellows:
Collaboration: "We are used to words like collaboration, cooperation, participatory, and inclusive . . . this module helped me to better understand these words and the differences between them."
System Thinking: "Understanding the systems approach is of great use in designing a project. I didn't pay attention before that most things work in a system. Thanks to this module, I will integrate this approach into my way of doing things."
Foresight: "I learned in the module how to anticipate a situation in an organized way."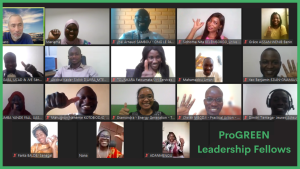 Highlights from the Modules and Emerging takeaways:
Collaboration is not easy at first, it requires discussion and work to find shared goals and objectives

Sometimes what you think collaboration might be like, and what it is really like are quite different

Multi-disciplinary actors should be included in the design and  management of complex projects

Working with diverse collaborators requires having a vision of the entire system rather than only dwelling on the details

It is important to be able to listen to and respect the ideas of others

Working with diverse people requires one to be open-minded and more tolerant

System mapping is a useful tool for understanding interconnectedness when thinking about decisions for future collaborative initiatives
This journey is ongoing, and we will have more to share as we work together with the Fellows to support West Africa's renewable energy transition and establish a stronger network for the next generation of decision-makers and practitioners. Keep up with our progress on the ProGREEN website and START's social media.