Following the renewable energy assessments conducted in Burkina Faso and Senegal, the ProGREEN team has now turned its attention to preparing for phase II of the project. This phase kicked off with the first of a series of webinars on May 5, 2021 with a webinar entitled Renewable Energy and Education: Improving Training, and Research to support Renewable Energy transitions in West Africa. This webinar convened distinguished experts and professionals from Burkina Faso and Senegal including:
Issakha YOUM, Department of Physics, Faculty of Science and Technology, Cheikh Anta DIOP University of Dakar
Oumarou SAWADOGO, UNESCO Chair in Sustainable Engineering and Applied Solar Technologies Director of the New Materials for Energy Laboratory, Initiator and Director of the project: Institute for Training
in Applied Solar Technologies Ouagadougou, Burkina Faso
Abdou NDOUR, Coordinator of the Enda Energy branch – South Zone, Head of PROGRES – LAIT, Senegal
Charles D. KONSEIBO, Head of Resource Mobilization and Technical Support Unit, CEAS Burkina Faso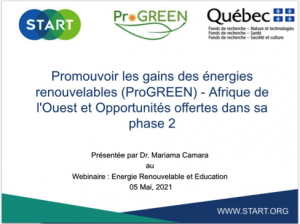 The webinar was moderated by Mr. Kader DIOP Technical Advisor to the Director General of the National Agency Renewable Energies of Senegal along with START program specialist Dr. Mariama Camara.
This webinar offered a platform for early career Francophone researchers to learn from the extensive experience of the guest speakers. Productive discussions were convened around gaps in training and research relating to renewable energy in West Africa, as well as potential solutions for filling these gaps. Case studies were presented from Burkina Faso and Senegal showing positive impacts of access to renewable energy in rural areas, and how such access depends on having qualified and skilled technicians to maintain systems in these areas.
Indeed, the discussions were so fruitful that the session went well over time! To maintain this interest and momentum, START/ProGREEN will be continuing this webinar series with the second focusing on the tight relationship between renewable energy, climate change and National Determined Contributions (NDCs) currently being updated in many West African countries. Check back on START's website and social media for updates on dates and times!