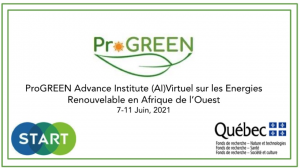 From 7-11 June 2021, START will convene a multi-module Advanced Institute (AI) for competitively selected participants from Burkina Faso, Senegal and Morocco, focused on renewable energy themes that emerged as priorities from the ProGREEN country assessment reports. This is a key component of ProGREEN Phase 2 where the focus will be on putting learning into action and enhancing capacity strengthening endeavors with early career scientists and professionals. The AI will be held in French and will feature key regional experts who will provide insights and reflection on the current landscape of renewable energy, and related fields in West Africa. Featured instructors and modules include:
Climate and sustainability-linked motivations for renewable energy expansion with a special focus on West Africa:
Instructor(s): Fatima Driouech, Eng. PhD Associate professor Mohammed VI Polytechnic University, Vice-chair IPCC WGI, Vice-chair Standing Committee for Climate Services at WMO/SERCOM and Mr. Abdou Ndour Coordinator Enda-Energie / PROGRES-LAIT Kolda
In-depth exploration of solar energy in West Africa:
Instructor: Prof. Oumarou Savadogo UNESCO Chair in Sustainable Engineering and Applied Solar Technologies Director of the New Materials for Energy Laboratory, Initiator and Director of the project: Institute for Training in Applied Solar Technologies Ouagadougou, Burkina Faso;
Examining the role of bio-digesters and biogas in West Africa:
Instructor: Dr. Lamine Ndiaye Director Sustainable Business For ALL (SB2-4ALL) and Lecturer at Senegalese University
Investigating financing for renewable energy initiatives in West Africa, accessing financing and key challenges:
Instructor: Dr. Antoine Faye International Consultant on Climate & Energy Finance
Impact-focused research and its importance for greater uptake and expansion of renewable energy technologies:
Instructor: Mr. Lancelot Soumelong Ehode Communication Specialist IDRC-Senegal
The goals for the AI are for participants to:
Strengthen their understanding of the renewable energy landscape in West Africa, the linkages to regional and global governance frameworks and financial schemes, and the necessity for closely aligning research and action.
Become well versed on the contributions of renewable energy to development and synergies with other sectors important for achieving the SDGs
Build and Expand their network of peer researchers and professionals from which future partnerships and knowledge sharing can develop
Be better equipped to lead and contribute to concrete actions on renewable energy and to articulate that work to broader audiences.
Following the AI, an opportunity will be opened (currently only to Burkinabe and Senegalese participants) to form teams and submit impact oriented proposals for ProGREEN Action Awards. These awards will focus on translating learning into action around key renewable energy issues in Burkina Faso and Senegal. Prior to proposal submission, teams will participate in a virtual accelerator workshop to help progress initial ideas and to enhance dimensions of research for impact and communications in the draft proposals. Check back on START's website and social media for updates on the AI!