We are delighted to welcome Mzime Ndebele-Murisa as Program Specialist managing START's involvement with the Future Resilience for African Cities and Lands (FRACTAL) program.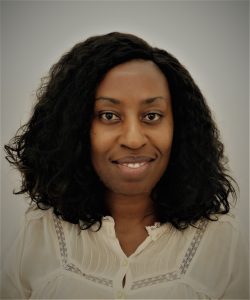 Before joining START, Mzime worked as a regional climate change expert and Deputy Dean at Chinhoyi University of Technology, Zimbabwe, and coordinated several multi-disciplinary, collaborative projects in southern Africa focusing on aquaculture, climate change modeling and adaptation.
Mzime's first involvement with START dates back to 2007, when she participated in an Advanced Institute in Africa co-sponsored by START on 'Global Environmental Change and the Vulnerability of Water Resources in the context of the Millennium Development Goals'. In the past ten years she has engaged with START in a variety of roles that have evolved with her career: she was awarded a Doctoral Fellowship with the African Climate Change Fellowship Program (ACCFP) from 2009 to 2010 and she has been engaged as a Vulnerability-Impacts-Assessment (VIA) expert with the Coordinated Regional Climate Downscaling Experiment (CORDEX) Africa program since 2011 as well as provided training for the ACCFP's Advanced Institutes since 2013. More recently, Mzime has worked with START as Team Leader and Principal Investigator for the FRACTAL research team in the city of Harare (Zimbabwe) and under START's Global Environmental Change Research Program.
"Engaging with START has offered opportunities for deepening my knowledge of environmental change and sustainability and learning to better communicate that knowledge," says Mzime. "The most valuable skill I have acquired through START fellowships and programs, however, is the ability to connect and work across disciplines. This is crucial, given the cross sectoral and interlinked nature of the issues we address – such as climate change and variability, or sustainable management of socio-ecological systems."
Mzime will manage START's involvement in FRACTAL, a program addressing the challenge of providing accessible, timely, applicable and defensible climate information that is needed by decision-makers operating at the city and regional scale in southern Africa. Since 2016, START has provided an "opportunity fund" promoting knowledge exchange and learning across the cities.
"FRACTAL's uniqueness lies in its emphasis on experiential learning across cities, the engagement, and participatory approaches as well as transdisciplinary research collaborations – we work 'with' rather than 'for' communities," adds Mzime. "I am excited about the prospect of contributing to START and FRACTAL by bringing experience from the research side to programming – this will be a huge learning experience for me. The decision to shift was borne out of a keenness to understand and appreciate fundraising and managing of grants at a large scale and a natural knack for managing projects, coordinating people and events."
"The program also has a strong capacity building element and I am looking forward to using my experience as former fellow, grantee and principal investigator to continue mentoring students and early career researchers and to help them explain, disseminate and communicate research outputs to partners and stakeholders."
Mzime will be based in Zimbabwe and can be reached at mmurisa@start.org. Please join us in welcoming her to the team!