Forests cover more than 45% of Nepal's land and are one of the country's major resources. Since the 80s, Nepal has adopted a groundbreaking approach to forest management, allowing communities to take ownership of and manage local forests. Today, nearly 40% of the population is involved in the management of community forests.
Mapping Nepal's forest transition and developing a comprehensive understanding of factors underlying observed changes in tree cover are critical if Nepal is to improve upon this successful initiative.
An international meeting and training were held in December 2018 in Kathmandu, Nepal, to explore the use of Landsat satellite data and spatial modeling to better understand the rate, extent, and socioeconomic importance of Nepal's tree transition. The meeting was organized by the East West Center, Resources Himalaya (Nepal) and Forest Action (Nepal) with support from GOFC-GOLD South Asia and START.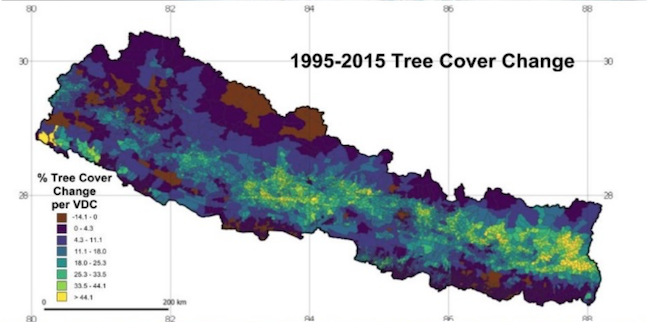 Nearly 70 participants from academic, government and non-government organizations attended the meeting. The presentations and discussions focused on:
describing project methodologies (satellite image processing, census and interview data analysis, and spatial modeling)
documenting annual tree cover change since 1990 at 30m spatial resolution
identifying physiographic and socioeconomic variables associated with tree cover change and quantify their respective influences, and
assessing how foreign labor migration and remittances correlate to tree cover and the future of community forestry in Nepal.
A 2-day hands-on training following the meeting was attended by 25 participants and focused on accessing and analyzing annual, nation-wide tree cover remote sensing data using Google Earth Engine (GEE).
More information and meeting presentations