START is excited to announce the launch of the ProGREEN Fellows Program. This program will accompany a group of Francophone early career renewable energy scientists and professionals from West Africa on a journey toward strengthening personal and interpersonal leadership competencies for effectively collaborating with others and for navigating the challenges of trying to address complex socio-ecological problems. The core of the program will feature three leadership lab offerings co-created by START and Reos Partners consisting of nine asynchronous online modules paired with nine virtual, interactive contact sessions. Highlighted themes include power, gender, reflexivity, empathy, foresight, and systems thinking. The program also features technical capacity strengthening on the current situation of solar and bio-energy and their role in energy transitions in the region, renewable energy finance, successful proposal writing, and strategic communications. 
START received over 400 applications which were competitively reviewed and narrowed to sixteen Fellows from Senegal, Togo, Benin, Mali, Côte d'Ivoire, Niger, Nigeria, and Burkina Faso with multi-sector backgrounds in academia, the private sector, the public sector, and civil society. Keep following ProGREEN on START's social media for updates!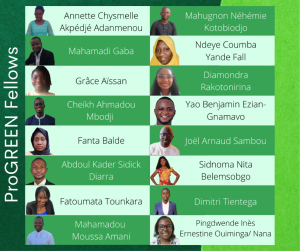 You can find more information about the fellows' profiles here.
Promoting Gains in Renewable Energy (ProGREEN) is a multi-year project led by START and supported by the Research Fund of Québec.