During February 15-17, 2017 the Southeast Asia START Regional Center (SEA-START) has conducted the third and final training workshop on Assessing Community Vulnerability and Adaptation to Climate Change.
Over the past 18 months, 15 government planners from Cambodia, Lao PDR, and Viet Nam have learned key concepts of climate change adaptation planning, which aims at integrating climate change adaptation into community development plans.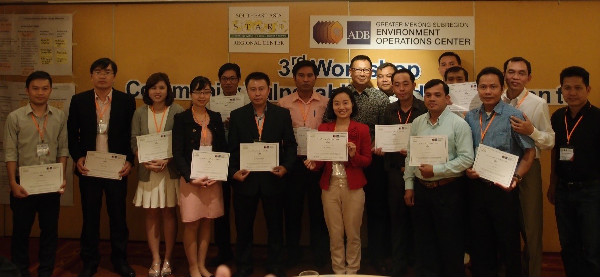 The training program covers the following topics:
Assessing the current context of the sector and community
Assessing the current risk and vulnerability of the community to climate threats
Assessing the future risk of the community and the robustness of current risk management strategies and also the effectiveness of the current development/risk reduction plan in the future
Formulating plausible future concerns of the community
Formulating an adaptation strategy for each community
Identifying options for measuring and evaluating the strategies, and assessing enabling or critical success factors.
The training program was funded by the Core Environmental Program of the Asian Development Bank.