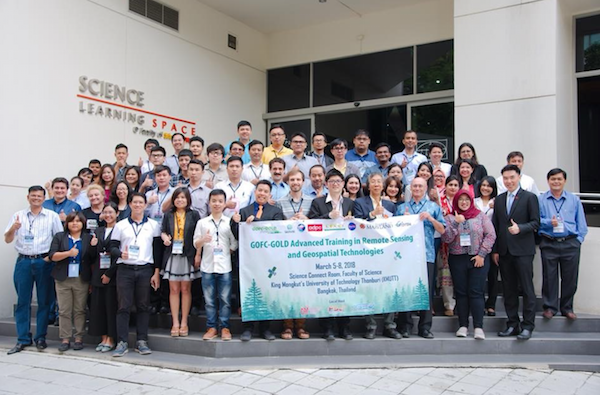 An advanced training in remote sensing and geospatial technologies provided an opportunity to early-career scientists and practitioners from the South/Southeast Asia region to further their knowledge and expertise through lectures and hands-on exercises.
The training took place in Bangkok, Thailand on March 5-8, 2018 as part of the South/Southeast Asia Research Initiative (SARI) of the Global Observation of Forest Cover and Land Dynamics (GOFC-GOLD) program.
Attendees included 68 Master's and PhD students, as well as mid- and senior- level researchers from government and non-government organizations from 10 countries (India, Bangladesh, Bhutan, Pakistan, Myanmar, Indonesia, Malaysia, Philippines, Vietnam, and Thailand).
The training was inaugurated by the Rector of KMUTT University and welcome addresses were delivered by the local host Dr. Vernakovida (KMUTT), Dr. Garik Gutman (NASA HQ), Dr. Krishna Vadrevu (NASA MSFC), Dr. Peeranan Towashiraporn (NASA SERVIR, Mekong Hub Director) and Mr. Tatiya Chuentragun (Deputy Director, GISTDA  – Thai Space Agency).
Dr. Gutman delivered an introductory lecture on the potential of remote sensing in the region and recent achievements of NASA's Land-Cover/Land-Use Change (LCLUC) Program in Southeast Asia.
Experts from Asia, the United States and Europe delivered lectures on topics including processing of declassified Corona data, unmanned aerial vehicles, Synthetic Aperture Radar (SAR) data and applications, hyperspectral data and land-cover mapping using latest machine-learning algorithms. A special session on the open-source cloud computing Google Earth Engine, with hands-on exercises, was lead by the NASA SERVIR-Mekong team.
The training was organized by Dr. Krishna Vadrevu (NASA MSFC) and Dr. Pariwate Varnakovida (Geospatial Innovation Center, the King Mongkut's University of Technology in Thonburi (KMUTT) Bangkok, Thailand) and hosted by KMUTT. The event was sponsored by START International, SERVIR Mekong, Thailand and other local institutions.