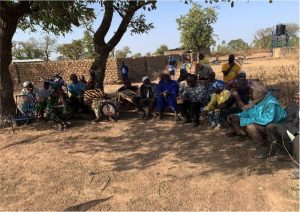 The final community dialogue for the Collaboration for Adaptation and Resilience in Mali (Co-FARM) project was held on January 5, 2022 in the rural commune of N'Goutjina in Koutiala Cercle, Mali. 28 participants joined the dialogue (54% female) representing linkages to approximately eleven different stakeholder groups including women's groups, youth, traditional authorities, local officials, NGOs, the agriculture service and local media. Stakeholders expressed their happiness at the recent improvements for the water retention of the BCER (Bassin de Collecte des Eaux de Ruissellement) in N'Goutjina including a plastic and concrete basin liner and installation of a solar pumping system and water tower for the adjacent borehole to help maintain BCER water levels in the dry season. These improvements set the scene for community members to put their recent training on solar pump equipment use and maintenance, aquaculture and climate smart vegetable production to use as they move ahead with their planning of shared community use of the BCER water and surrounding land resources.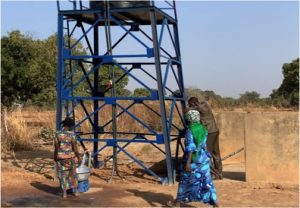 The local women's groups especially expressed their approval of these improvements stating that, "For women mainly, having water all year round is an opportunity to carry out income-generating activities (market gardening and fish farming) in the off-season. Through this opportunity, [it might also be possible] to reduce logging (cutting wood and reselling in the form of charcoal or in the form of firewood which also harms the environment). [The Co-FARM BCER and solar pump] enables women to save their time and facilitate their access to water. They have water more easily and quickly with less physical effort for consumption, domestic work and even for watering small ruminants. So they can devote that time to other activities."
As part of the collective use of the basin, they have already demarcated 1 hectare of land around the BCER intended for market gardening and the agriculture service has provided support by providing them with seeds of tomato, lettuce, cucumber and onion.
Members of the N'Goutjina commune as well as other linked partners and NGOs will continue working together after the close of the Co-FARM project this month to assemble a BCER management committee and move forward with their shared use planning and activities.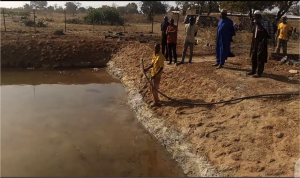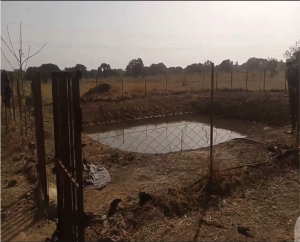 ---
This work was carried out with financial support from the UK Government's Department for International Development and the International Development Research Centre, Ottawa, Canada. The views expressed herein are those of the creators and do not necessarily represent those of the UK Government's Department for International Development, IDRC or its Board of Governors.