In support of young researchers working on the Collaboration for Adaptation and Resilience in Mali (Co-FARM) project (an IDRC supported program focused on increasing the resilience and adaptive capacities of water resource users in Koutiala, Mali), START and Co-FARM partner Reos Partners came together in November 2021 to develop a 4-module, combined synchronous and asynchronous virtual lab on Leadership for Sustainability. 
With this effort, leadership is not conceptualized as a particular professional position or seniority level, but as a personal orientation that encompasses the inner and interpersonal skills, knowledge, capacities, and competencies to 1) be able to effectively work and collaborate with others, and 2) be able to navigate the cognitive, emotional and pragmatic challenges of trying to address complex socio-ecological problems, in the context of enormous uncertainty and rapid change.
Nine early-career scientists from Mali, Burkina Faso, and Senegal participated in weekly online modules consisting of informative content, quizzes, critical thinking exercises, and supplementary links and resources. At the end of each week, a virtual French-language contact session was convened by START and Reos where participants had the opportunity to reflect on what the concepts meant for their own lives and work, and to put their learning into action. The four traits and capacities highlighted in the offering modules are reflexivity, empathy, foresight, and flexibility.
See our Co-FARM Leadership Lab video here.
Read our Co-FARM Leadership Brief here.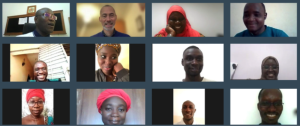 This work was carried out with financial support from the UK Government's Department for International Development and the International Development Research Centre, Ottawa, Canada. The views expressed herein are those of the creators and do not necessarily represent those of the UK Government's Department for International Development, IDRC or its Board of Governors.