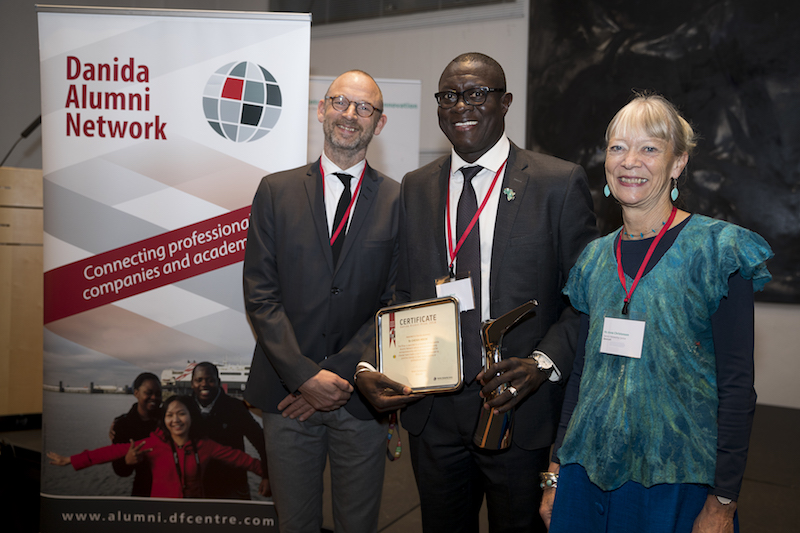 START's Executive Director Cheikh Mbow received today the Danida Alumni Prize, a prestigious award that celebrates the achievements of distinguished alumni of the Danida Fellowship Centre. 
Dr. Mbow was selected for his efforts to develop a critical mass of scientists in Africa and Asia and his innovative and entrepreneurial approach.
"We all know that science in Africa is lagging behind, not because we are short of abilities, but we are short of opportunities," said Dr. Mbow during the award ceremony that took place today in Copenhagen, Denmark. "Danida's work is helping spark hope in a new generation of scholars and scientific leaders for a better Africa." 
"The Danida fellowship holders personalize what Danida Fellowship Centre is and stands for – capacity strengthening within governance and research, and for the public sector, civil society and the private sector alike. This is highlighted in the annual Danida Alumni Prize given to an alum whose achievements have made a significant contribution to positive change in his or her home country or professional field", said Ms Anne Christensen, Director Danida Fellowship Centre.
The Danida Alumni Prize is awarded annually by the Danida Fellowship Centre. WHO Director-General Dr. Tedros Adhanom Ghebreyesus received the Prize in 2017.
Cheikh Mbow participated in a Danida fellowship from 1997 to 2000 at the University of Copenhagen, pursuing a PhD in remote sensing in forestry management. 
In his home country Senegal, as part of the faculty of Cheikh Anta Diop University, he mobilized substantial funds to build a first-class geomatics lab and secure resources and high-end equipment for his students. 
As senior scientist at the World Agroforestry Centre in Nairobi, he played an instrumental role in the development of action research to improve agroforestry policy for vulnerable communities of many African countries.
In his present position as the Executive Director of START International, Dr. Mbow promotes and facilitates a bottom-up approach to science in Africa and Asia.
——-
About START International
START International provides opportunities for training, research, education and networking that strengthen scientific skills and inspire leadership for advancing solutions to critical sustainability challenges. Founded in 1992, START is a registered nonprofit headquartered in Washington, DC. 
About Danida Fellowship Centre
Danida Fellowship Centre is established to manage short-term learning programmes and other capacity building activities, and research projects under the Danish International Development Assistance. It is a self-governing institution under the Ministry of Foreign Affairs of Denmark.  Since the 1960s, more than 20,000 men and women from Denmark's partners in low-income and emerging economies have received a Danida Fellowship. In 2016, Danida Fellowship Centre launched Danida Alumni Network. https://alumni.dfcentre.com/
Media contact
START International: Marina Monzeglio, mmonzeglio@start.org
Danida Fellowship Centre: Vibeke Quaade, vq@dfcentre.dk